Support Assistant with British Sign Language Level 2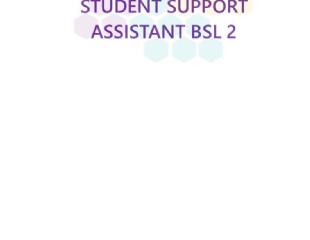 This is an exciting opportunity to support a bright and enthusiastic young student, using BSL or sign supported English, to act as an interpreter within a small class with a team of student support assistants.
Full Time - 40 hours per week - Term Time Only - Permanent
£16,658.25 (Term Time only working inc 5.5 weeks holiday pay). £10.00 per hour plus pension
The successful applicant will have Level 2 BSL and will support a "total communication" approach with the support of the speech and language team and be expected to complete the Children and Young People's Workforce Diploma at Level 3 (if not already achieved).
Experience of complex physical and medical needs is desirable, however an aspiration to enable students to learn and achieve meaningful independence is essential.
We offer a supportive, friendly working environment in a country school setting and the chance to make a real and positive impact on the lives of Valence students.
For further information please see application pack. To apply please complete the application form and return to HR.
Closing date for applications: Sunday 19 January 2020
Interviews expected to take place on 30 January
We welcome applications from everyone irrespective of gender and ethnic group but, as men are currently under-represented in this role, we would encourage applications from male candidates. Appointment will be based on merit alone.